With so many decisions to make, our home insulation solution is the GREEN choice. Protect your home and the environment, install Nu-Wool.
Why do homeowners choose Nu-Wool Premium Cellulose Insulation for their home insulation?
Installed in both attics and walls of homes, Nu-Wool has a high R-Value (3.8 R per inch), offers superior thermal and air-infiltration properties, resists mold growth and even dramatically reduces noise transmission through floors and walls. Nu-Wool Premium Cellulose Insulation is one of the most acoustically superior materials available for residential and home insulation, so homeowners can enjoy life in a quieter home.
Homeowners also feel a satisfaction with their choice to live in a cellulose insulated home because they are helping the environment. More paper ends up in landfills than other types of material, and because Nu-Wool Premium Cellulose Insulation is made from recycled newspaper, homeowners choosing Nu-Wool are actually preserving land and trees for future generations.
Nu-Wool Premium Cellulose Insulation is an energy saving cellulose insulation that eliminates the voids and air pockets common with other insulation materials. And, Nu-Wool Premium Cellulose Insulation is mold resistant, fire retardant, and cost-effective. It just couldn't get any better for your home.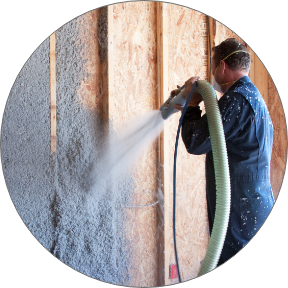 Nu-Wool Premium Cellulose Insulation costs up to 48% LESS than open cell spray foam & is backed up by a 10-Year Energy Guarantee.
What Our Customers Say...
Our custom built home has Nu-Wool in the walls and attics.  We choose Nu-Wool due to its high recycled content and for sound absorption.  By also insulating our floors and interior walls, we do not hear sound from room to room.  Our previous home had very little sound absorption, and we can definitely hear the difference.
What is really exciting for me is when I bring a homeowner back to the home after it has been insulated, and their response is "Wow, this is amazing, it's almost soundproof."  For me, that is when I know I have entrusted in a high quality product and why I use Nu-Wool in my custom homes.
Having Nu-Wool installed in our home was an easy choice, because it is all natural and doesn't contain any harmful ingredients.  Plus, we tried to use as many eco-friendly products as we could during our build. We didn't even realize that it would be so quiet, so that is any added bonus of using Nu-Wool. We would definitely use Nu-Wool for future homes.
The fire department said that, that wall of Nu-Wool insulation acted as a barrier to give us time to get out when our house was on fire… Nu-Wool is definitely what you should choose if you are thinking of the safety of your family.
View Video Testimonial>>

Nu-Wool Insulation products are available for professional install by a certified installer or can be purchased at select lumberyards and retailers for DIY install.